Giroux's Poultry Farm was using traditional mechanical stampers to date their egg cartons. Their operators were averaging two hours per day aligning and cleaning the print stamps, but still experienced poor print quality. This downtime limited their production capacity and the alignment process resulted in significant carton waste. In addition, the stampers were unable to detect if the carton had failed to close properly resulting in additional carton waste and repackaging time and costs.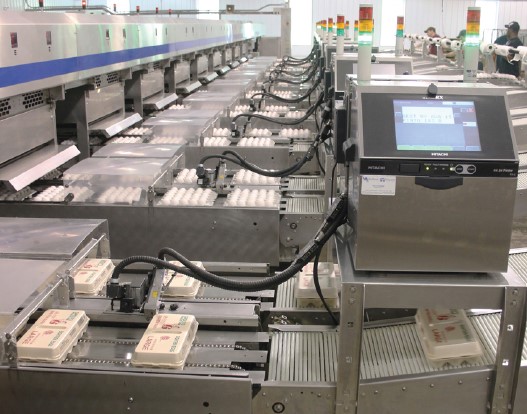 Working with Hitachi, Van Alstine demonstrated the capabilities of the RX-Series Continuous Ink Jet Printer to resolve all of the issues Giroux Poultry Farm was experiencing with their traditional stampers, including high downtime, operating costs and carton waste.
Giroux tested the Hitachi RX-SD160W for one week proving the printer could operate without an encoder and detect when a carton had not closed properly. Operating costs were 43% less than their previous coder when considering ink, make-up and scheduled maintenance. Carton waste was eliminated. Impressed with the cost savings, reliability, print quality, and ease of use, as well as the outstanding local support from Van Alstine, Giroux purchased 28 Hitachi units replacing all their existing stampers.
With the solid reputation of Hitachi Continuous Inkjet printers in the food packaging industry, and Van Alstine's local support and attention to detail, Giroux knew they were making the right choice.
Download PIN News